Everyone dreams of staying at a luxury hotel, but hearing the colossal amount of money you have to drop just for a nightly visit leaves most people mouth agape, particularly when you can pick up Hawaii holiday packages and other great destinations at such heavily discounted rates. Nevertheless, here are the five of the most expensive hotel rooms in the world. Decide for yourself if the amenities are enough to justify such a large cost!
Ritz-Carlton's Presidential Suite, Tokyo

Nightly Price: $25,000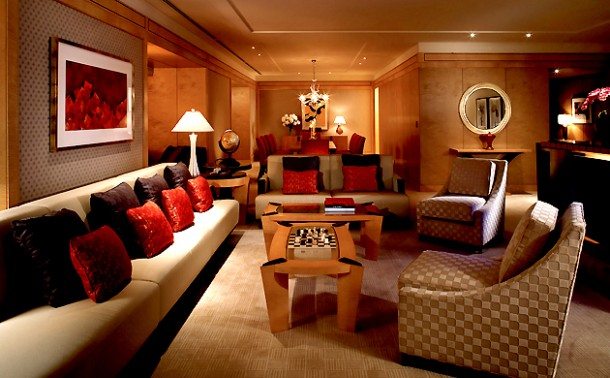 This hotel room is a stunning 307 square meters that comes with a large four-poster bed located in the master bedroom. Guests get a personal concierge, and there is also a living room connected to the bedroom area. There is also a gym and indoor pool for people with this room. The bathroom itself is very spacious, and nearly everything is made of marble. Outside the window, guests can see the Imperial Palace and Roppongi Hills.
Perhaps the only disappointing aspect is the TV. Guests get a Sony BRAVIA, but it's only 20 inches.
Westin Excelsior's Villa La Capula Suite, Rome

Nightly Price: $29,000

Nearly twice as large as the Presidential Suite, this hotel offers guests luxurious amenities. There is a large Pompeii-styled pool for guests to relax in, and there are intricate frescoes of painted horizons.
Each guest gets their own balcony and stained glass windows. There is a private kitchen, and a wine cabinet featuring over 150 different wines to choose from. Nearly all the furniture is hand-carved wood, and there is an antique chandelier. Guests also get their own private cinema.
Four Seasons Hotel's Ty Warner Penthouse, New York

Nightly Price: $34,000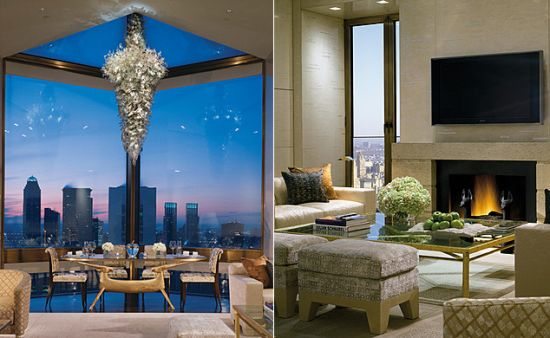 The suite itself is composed of nine different rooms. The walls have mother of pearl, and all the fabrics are woven with gold and platinum. In the Zen room there is a waterfall, and guests can enjoy a private piano or hot tub soak. Aside from spa treatments, a private butler and a personal trainer, this suite also offers amenities that extend outside the hotel.
If the guest wants to go outside, they are chauffeured in a Maybach or Rolls Royce, and the L'Atelier de Joel Robuchon restaurant is guaranteed to have a seat open for this guest.
Palms Casino Resort's Hugh Hefner Sky Villa, Las Vegas

Nightly Price: $40,000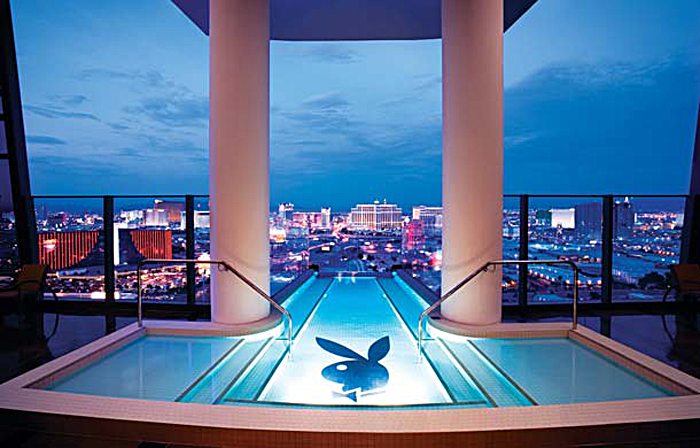 This isn't so much a hotel as it is a house. The room is made to imitate the famed Playboy Mansion, and has a glass elevator so guests can easily access the two stories. Yes, the suite is two stories large. There are three bedrooms, an exercise and spa room, a poker table, fireplace, and a 24/7 butler.
Aside from breathtaking strip views, there is also a rotating bed with a glass ceiling.
Presidential Wilson Hotel's Royal Penthouse Suite, Geneva

Nightly Price: $53,000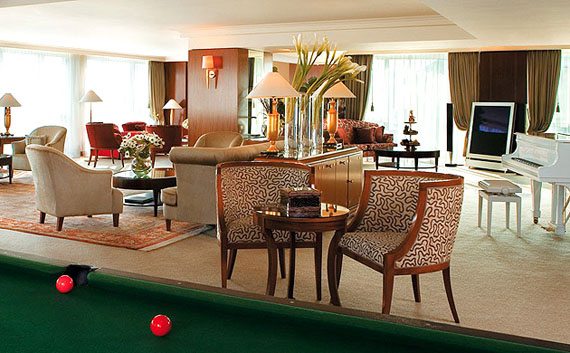 Most hotel buildings are rather large, and getting an entire floor to yourself seems almost laughable. But that's what you pay for at the Royal Penthouse Suite, the entire top floor. Made to accommodate 40 people, this room can only be reached via a private elevator and comes equipped with four bedrooms and six bathrooms.
There is an indoor library, water fountain, billiards table and a large dining room for 26 people. Security is the major concern here, because UN officials and celebrities use this hotel, so all the glass is bulletproof. This hotel easily dwarfs most houses, and is adorned with marble and hardwood, all in a contemporary style.